Item# 50130 Price: $120


more detail | go back | order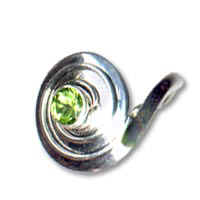 Spiral Ring with Peridot
Our spiral ring repeats the Unity symbol and swirls to the center of all. Adorned with peridot in the center, the spiral rings can remind you of what intention you hold as your center.
For more information about peridot, esoteric silver, and the unity symbol, please follow the links below.

Peridot: Wear peridot to accelerate personal growth and open new doors of opportunity.
Esoteric Silver: 97.0% silver mixed with an alloy of clean copper
Unity Symbol: The spiral represents a process of growth and evolution.